OOH SO CHARMING!
For the past few months, I've been obsessing over these tiny rings that go above your knuckles. There's something so hippie and romantic about it that I love, and its making a big statement with ten tiny statements. It also gives me a chance to dig up my old rings that I grew out of and tell people I'm wearing it above my knuckles on purpose (and not that its too small for me). I'm sure you guys have seen these in high street shops lately, but here are a few photos that conjured up inspiration for this DIY.
Junk Jewels charm rings, £5 each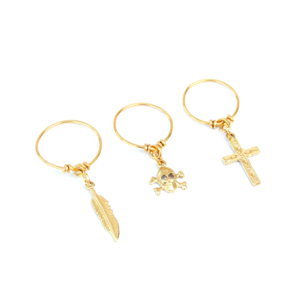 Regal Rose above knuckle rings, £8 for set of three
The DIY was pretty simple and if you look at the photos carefully, I hope its quites self-explanatory. I didn't bother with a tutorial as its really easy! All you need is:
A plain ring (I actually used the ring part of a key chain and they fit nicely)
Some small charms and beads if you like
A jump ring to connect everything together
And all you do is place the charms and the ring into the jump ring and close it. Et, voila!
Hope you found that helpful.
xx